Pretty flowers, leaves in the autumn, sand on the beach and in the shoes that you bring to your bathroom, candlelight, teapots, mugs, your favorite cozy sweater, and sunflower painting that you've got as a gift. A refreshing drink, a slice of a fruit pie, a comfy yellow pillow - it's all around us, the same as in our color images.
There is no single opinion about yellow. Some people adore it, and some people do not like it much. Nevertheless, we will not deny this is one of the most bright colors in the color palette. It is associated with the sun, energy, light, and warmth. But, on the other side, with a warning, and even sadness and betrayal. Different color shades and their combinations may strengthen or lessen the psychological effects.
Historically, yellow was for rich people and was a sign of wealth, joy, and wisdom. In ancient China, for example, the only monarchy was allowed to wear yellow dress. In ancient Japan, deep yellow shade in clothes might be worn only with the emperor's permission as a recognition of one's bravery. In India, this color is associated with merchants.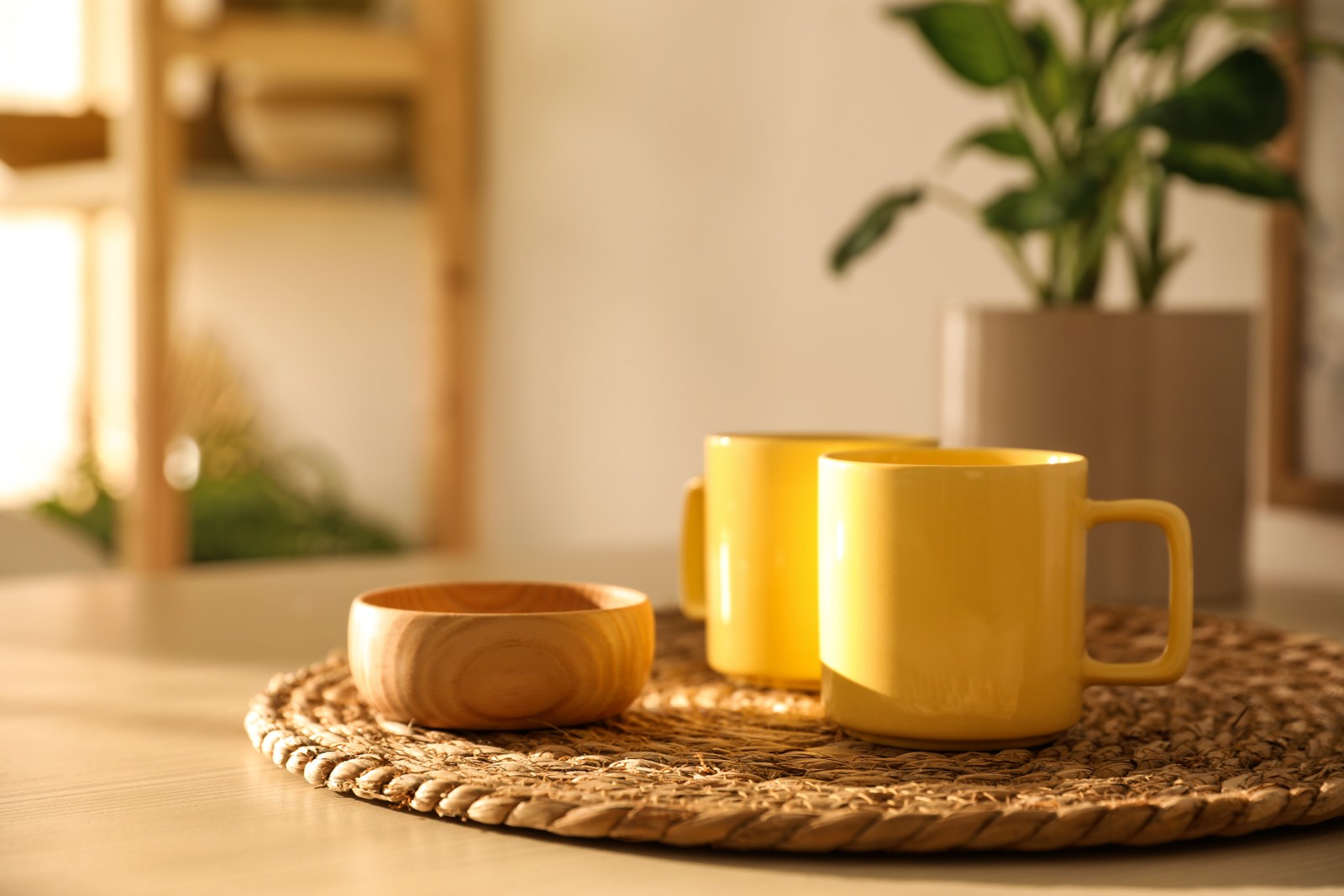 Nowadays, different shades of yellow color may still mean wealth and life (such as golden and other deep rich hues), sadness or sorrow, or regrets (pale shades), depending on the area of use. Bright yellow means warning or danger, for example, when used in manufacturing, technology, road signs, and attention-catching and refreshing when in fashion or art. When used in a design, its mission is to create the sun and warmth lacking and make the space appear more appealing and cozy. When used in room decor, it stimulates the brain cells to work more intensely and be creative, strengthens concentration, and makes people reach their goals. There is an opinion that people who prefer adding yellow color to their wardrobe and lives are more active and cheerful, initiative and productive, ready for the game and risks, confident, and ignore failures.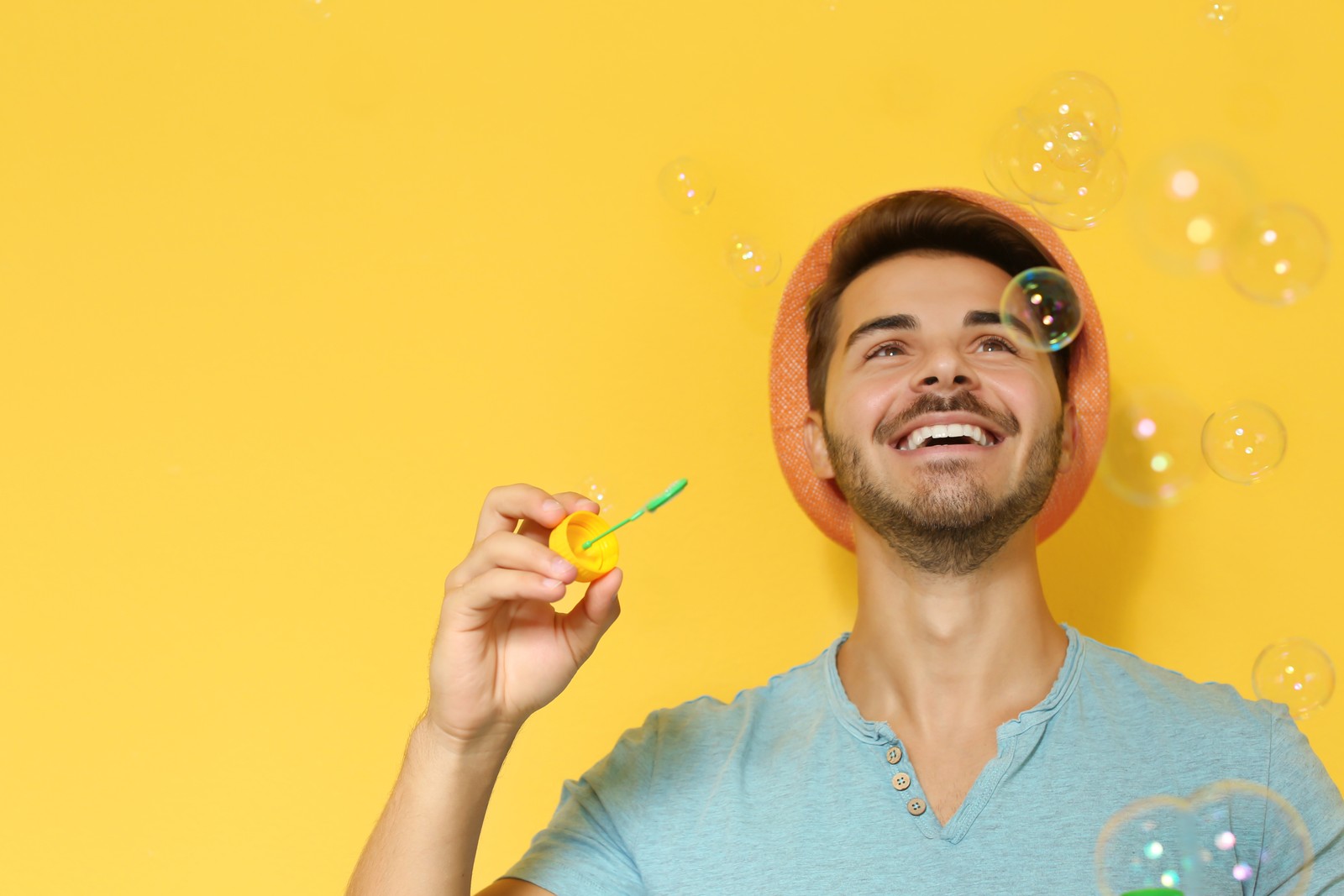 The most popular color combinations include black, deep blue, grey, green, brown, white, and red. The most popular shades are yellow, canary, gold, lemon, butter, mustard, dandelion, banana, honey, dijon, blonde, pineapple, amber, ochre, and Tuscany.
If you wish to choose matching shades for a rather pale yellow, you may want to stick to rather pale hues of other colors, and if your choice is a vivid shade, it must be combined with the strong one such as black, red, or blue.
Yellow in fashion
It depends on which look you would like to achieve. Yellow is suitable as a total look by itself. However, combining and mixing it with other achromatic colors, such as black, white, or grey, is safe. Classy looks have color combinations such as yellow and white, yellow and black, yellow and blue, yellow and red, or grey. Creative color combinations include, but are not limited to: yellow with peach, eucalyptus, deep pink and burgundy, mustard yellow with greyish shades of green and olive, dull pink and black, yellow with shades of green, etc. If you choose this color, the design should be moderate and do not have excessive details.
Yellow in design and interior
Bright yellow stands out and can make the place or item more upbeat and energetic. Mild yellow tones look more neutral and are suitable for the background to create a positive experience from a site. If you add bright accents only, you may highlight the most important areas. Any warm color in combination with yellow creates a homey feel.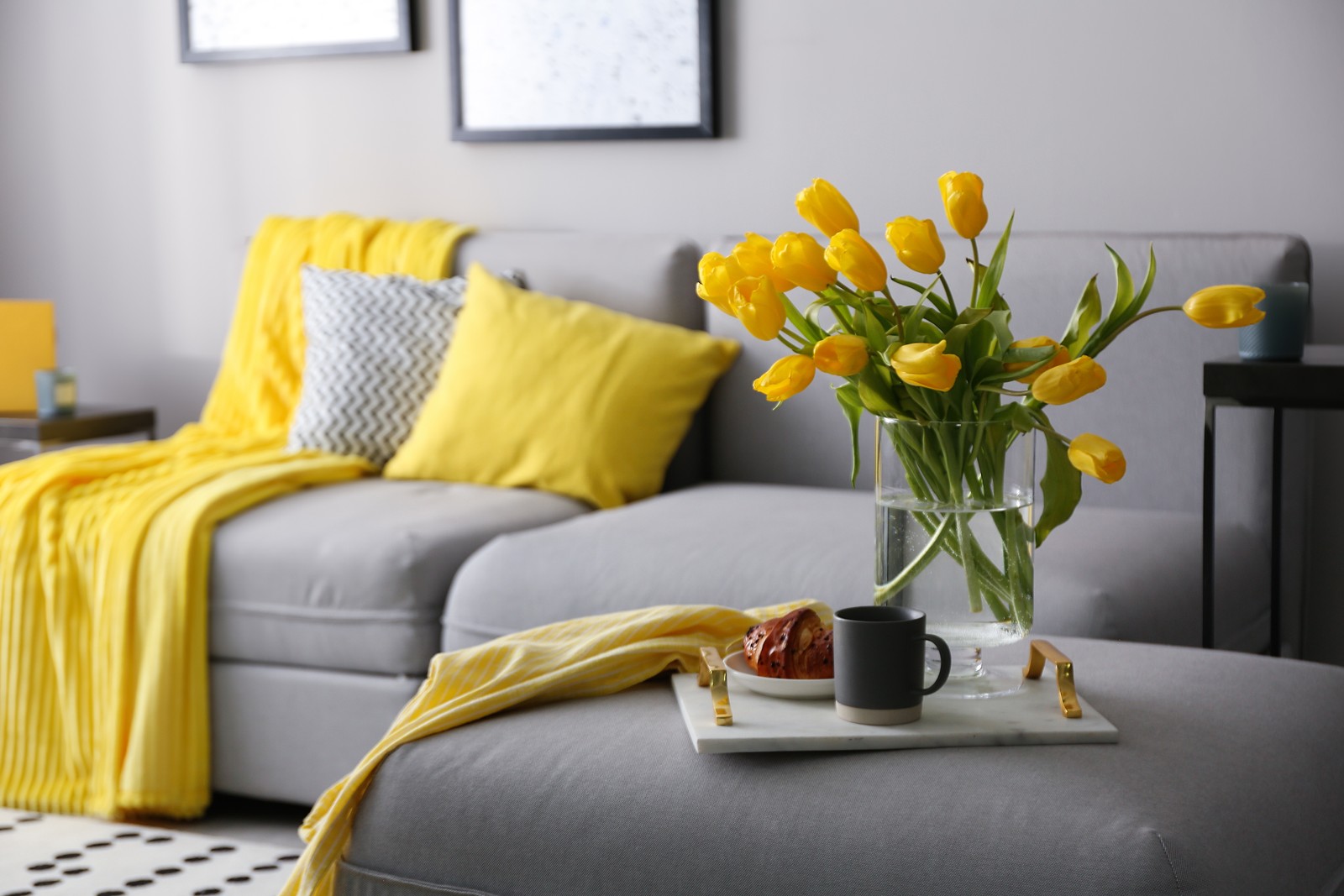 Since yellow is one of the best colors to stimulate brain activity, you may use it when designing the studying room but may also use it in any other room or place. If we speak of studying, yellow walls don't need to be good for children only. It may be suitable for anyone. You need to pick a proper shade. Usually, bright shades bring joy and happiness but have to be used in moderation. Specifically, soft yellow shades are more appropriate for kids as they do not bring up gender. Mild yellow gives a peaceful and happy feeling, while deep yellow and golden hues are perfect for providing the place or item a hint of stability and constancy.
There are pros and cons to adding it to your interior. Pros: yellow surfaces and walls appear to be more light and airy than they are, improve the mood and cheer up, and expand the space, visually making it warmer, wide, and light. Cons: if you choose a shade that is too bright, you may get fed up with the design quickly, too much yellow may annoy, and it also does not fit the rooms that have windows on the sunny side, as it could make the place stuffy and humid when in fact it is not.
Overall, there are a few successful color combinations for a fresh and appealing look:
Yellow + white. This combination is perfect if you are more conservative with the design but do not mind adding a splash of color or accents.
White will visually expand the space, and yellow will add sunlight to it. If you are after light and airy design, we advise choosing pastel and mild shades to combine with white. You may add curvy furniture, pictures in frames, miniature sculptures and trinkets, flowers, or a fruit basket to enhance its lightness.

There is a major rule for whatever room you prefer to decorate with yellow. So more yellow is in this room, so milder and calmer shades of it must be used to avoid the tiring effect coming from the brightness. The best solution for a living room when choosing yellow is to add accents only, while for the kitchen or dining room, big areas may be painted in bright shades as it is good for appetite. If you are mindful of your eating habits, it is recommended to select mustardy-yellowish or a combination of yellow and grey. Such accents as yellow chairs, flowers, dishes, textiles, or appliances may be appropriate too. If you want to add some accents to your bedroom, set your eyes on the curtains, decorative pillows, floor mats, or other details, or make an accent wall.
Yellow + black. Risky, but good for big, industrial spaces. Note, in this case, massive items should be black and yellow to place the accents only. It is recommended to soothe this combination with white, grey, and black shades or choose more safe combinations, such as black and golden or black and mustard.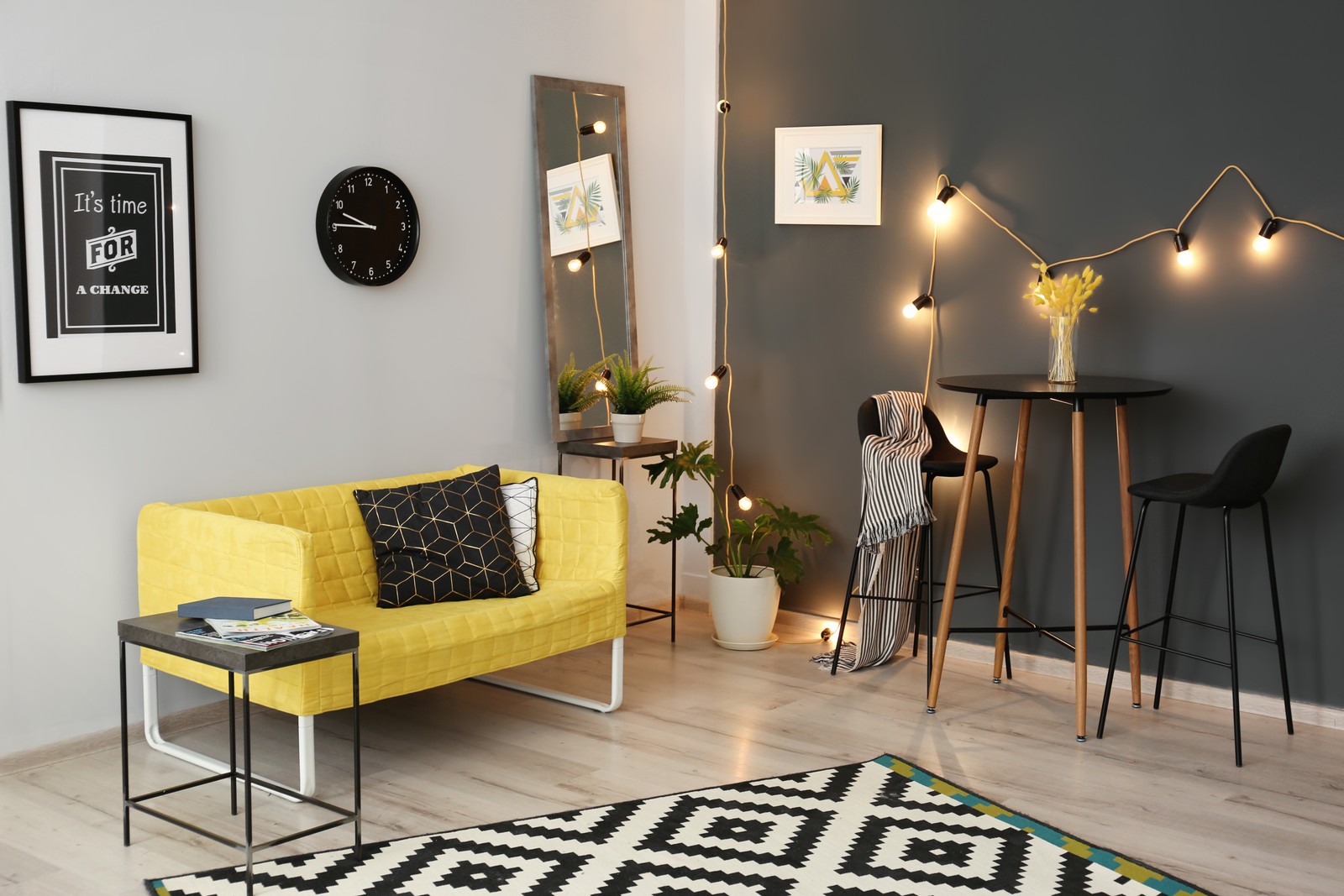 Yellow + green. One of the natural combinations reminds us of a countryside or a forest in the early fall. Do you remember dandelions in the green grass or how the leaves start to fall, flashing all those deep colors? It will make your place look fresh and peaceful. However, you must be careful with the bright colors. If you choose mild shades such as pastel yellow plus herbal green or pistachio, it might be a good solution for a living room or terrace.
Yellow + blue. An interesting color solution that wins because of the opposites. To make these opposites best friends, add neutral colors such as white, grey, beige, or dust pink. In this case, yellow should be the warmest shade as it will emphasize blue's richness and noble depth. Furthermore, yellow and blue are good partners for color block style where you may combine contrast on large surfaces such as doors, walls, cabinets, ceilings, and floors.

Yellow + violet. Combination for a spectacular design. If you love bright and juicy shades, it might be a proper choice. However, we recommend adding neutral shades such as grey, beige, or white to your initial intention to make it good for every day. Best goes with ethnic and boho designs.
Yellow in food
We cannot ignore the yellow color in the food, as it is essential to our lives. It is proven that colorful food is good for our body and appetite. If we follow the colorful pattern when choosing our meals, we will get all the vitamins and nutrients required for our body and organize our habits more healthily.
Food of yellow color is one of the best for brain activity and, if consumed regularly, will positively impact the thinking processes and help make decisions. In addition, it will improve the condition of your skin and aid with nervous system diseases. Some foods may act as an immunity booster, for example, corn, capsicum, millet, carrots, bananas, lemons, pineapple, honey, and turmeric.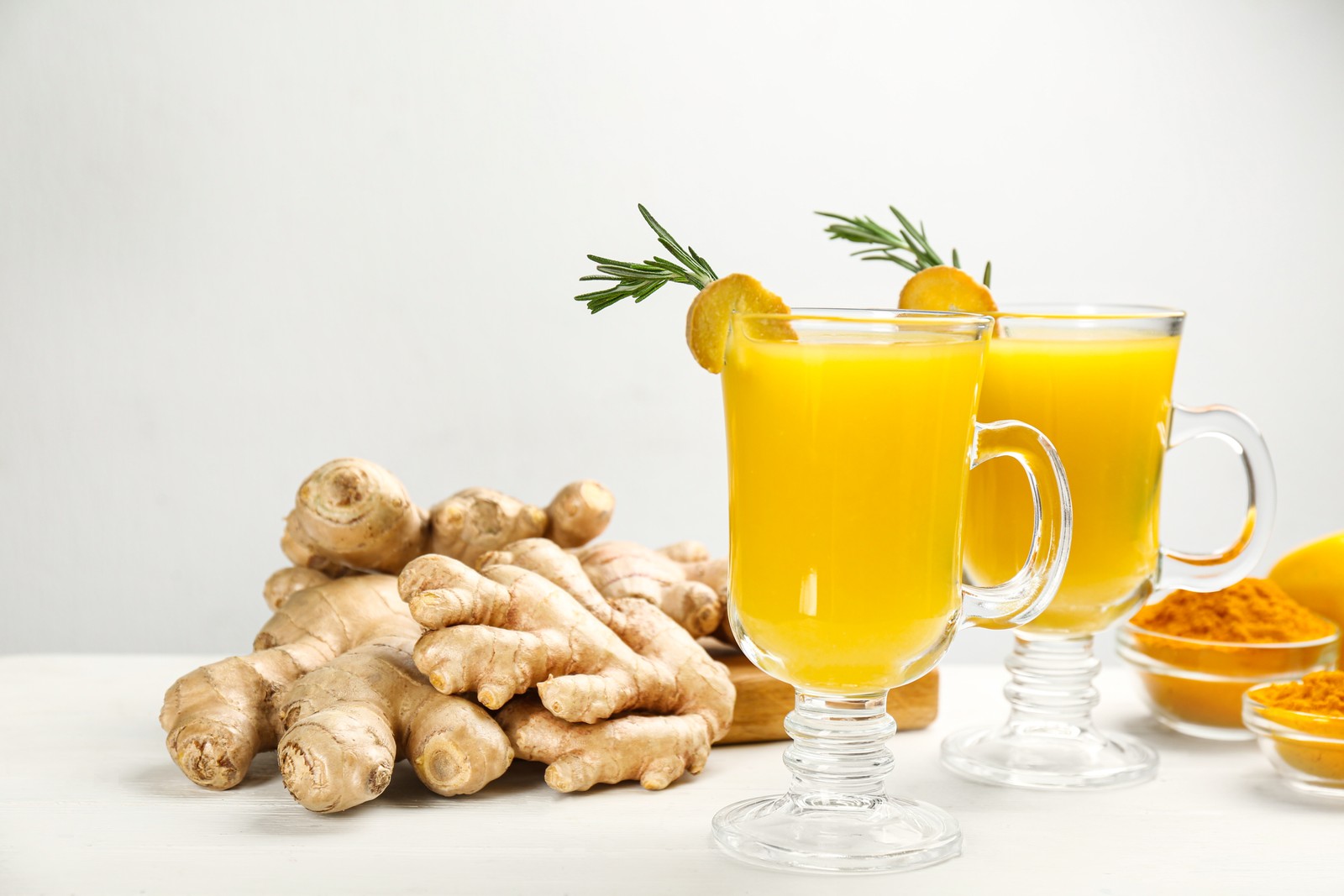 Sometimes we need food for the soul, too, when we have a sudden craving. Do lemon squares or citrus marmalade in winter, lemonade in summer, ginger-turmeric drinks when you need a better mood, or immunity booster sound good? How about dried mangoes that will remind you of your vacation spent in the warm country and bring back good memories?
We suggest that you add a splash of joy into the routine of our lives with our selection of stock images, which you may buy here.

---
Africa Images is a passionate team of professionals. Our goal is to make africaimages.com the best place to buy visual materials taken by Africa Studio for individual, business, and non-commercial projects, including but not limited to informational, educational, cultural, and scientific uses.